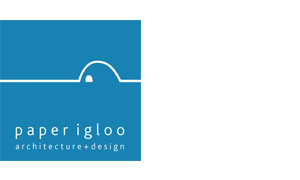 Paper Igloo Ltd
Ostro, Fintry Road, Kippen, FK8 3HL
Practice Description:
Paper Igloo is a small and flexible award winning architectural practice currently based in Kippen, Stirlingshire. We believe that fantastic architecture should permeate every aspect of all of our daily lives. We aim to create site-specific, high quality design solutions at any scale – the spaces in which we all live and work should be sensory, exciting, inspiring, imaginative and fun.
Our work experience includes time spent working on site physically building our designs, so we have a practical understanding of construction, which we believe gives our clients a more thorough and thoughtful solution. Always mindful of budget, we aim to maximize our clients' ambitions in clever yet considered ways.
Although we work on a variety of building types, from renovations of Listed and Historic buildings to house extensions and loft conversions, we specialize in bespoke low energy residential projects. Since constructing our own Certified Passivhaus home we have been steadily expanding our commitment to low-energy design. One of our directors is a certified Passivhaus Designer, as well as a Section 6 Certifier; we always aim to bring the most appropriate energy saving strategy to all of our projects.
Above all, we love design: we are a highly motivated team, and extremely passionate about what we do.
Paper Igloo Ltd
Paper Igloo Ltd
Stirling FK8 3HL, UK