WELCOME TO THE STIRLING SOCIETY OF ARCHITECTS WEBSITE
The Stirling Society of Architects (SSA) is one of the six chapters of the Royal Incorporation of Architects in Scotland (RIAS).
We represent the Architects working or living in Stirling, Falkirk and Clackmannanshire.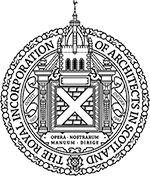 Our objectives are to:
Promote architecture

Promote the profession of architecture

Support the architects of our Chapter
These goals are achieved by:
Liaising with the Public (for example via this website)

Organising events such as the annual SSA Design Awards

Organising continuous professional development (CPD)

Improving communication between our members

Liaising with local government, professional organisations and other groups

Influencing policy making by representing our local architects' views at RIAS committees and Council
Get in touch:
If you wish to get in touch with us, please contact the President:
Stirling Society of Architects
Address?
Contact details?
Our Privacy Policy
Terms of Use
SSA Committee Members:
Liliane McGeoch (President)
Ally Croll (Vice-President)
Tommy Thomson (Acting Past President) Caroline Meikle (Treasurer)
Claire Gibbons
Matt Fleming
Sandy Lees
Malcolm Parry
Amy McEwan
SSA Representatives at RIAS Committees:
Conservation - Caroline Meikle
Contracts - Malcolm Parry
Council - Liliane McGeoch + Ally Croll
Education -  Ally Croll
Planning - Peter Riddoch
Practice - Tommy Thomson
PPC - Liliane McGeoch