The RIAS encourages best practice through a range of awards covering buildings of all scales.
The SSA is pleased to acknowledge the help and assistance received from our project partners in the delivery of the awards: CUPA Pizarras, IndiNature and Russwood.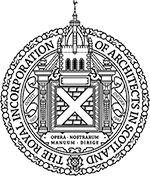 These awards are an important way of bringing Scottish architecture before a wide audience and to generate keen interest and debate in the design realm. The RIAS awards are launched every year and are open to all practices in Scotland. A shortlist of entries is prepared and these are then visited by the judging panel.
The culmination of the competition is usually an annual awards dinner and ceremony.
The RIAS Doolan Award
Established in 2002 with the aim to find and celebrate the best buildings in Scotland. The architects of the winning building receive a £25,000 prize making this both the largest architectural prize in the UK and one of the most significant architecture awards in the world.
The award was renamed the RIAS Andrew Doolan Best Building in Scotland Award in 2004 in memory of its founder and patron, the inspired architect /developer Andy Doolan, who died in April of that year. The award would not exist without his extraordinary generosity and vision. The Scottish Government also supports the award to promote and celebrate the best standards of design in Scotland.
The Stirling Society of Architects Design Awards
Based on the RIAS Awards template, the annual SSA Awards were open to architectural practices throughout Scotland but only for projects completed within the Stirling Chapter Area (Clackmannan, Falkirk and Stirling).
The award for the best project outwith the Chapter area applied to buildings designed by an architect whose practice is in the Stirling Chapter area.
Entries were judged by a visiting panel who also decided which category of award was given to the best projects. The winning entries were then announced at the awards ceremony.
The 2018 winners in each category were:
BEST BUILDING 2018
AWARD WINNER: The Engine Shed by Historic Environment Scotland and Reiach & Hall
BEST CONVERSION / EXTENSION
AWARD WINNER: The Coach House, Arnothill, Falkirk by Thatstudio Chartered Architects Ltd
COMMENDATION: Pine Crest, Glen Road, Dunblane by Bobby Halliday Architects
BEST BUILDING OUTWITH CHAPTER
AWARD WINNER: Affordable Housing for the "Dalmore Site", Alness by Bracewell Stirling Consulting
COMMENDATION: Mugdock House, by Thomas Robinson Architects
BEST USE OF GLASS (presented by Fakro)
AWARD WINNER: Carrongrange High School by Education Design Team, Development Services, Falkirk Council
COMMENDATION: 14 Viewfield Drive, Alva by AGL Architect Ltd
BEST USE OF TIMBER (presented by Wood for Good)
AWARD WINNER: 27 Victoria Place, Stirling by Paper Igloo Ltd
BEST USE OF STONE (presented by Cupa)
AWARD WINNER: The Engine Shed by HES and Reiach & Hall
SSA Committee Members:
Sandy Lees (Acting President)
Tommy Thomson (Past President)
Caroline Meikle (Treasurer)
Ally Croll
Claire Gibbons
Mhairi Grant
Liliane McGeoch
SSA Representatives at RIAS Committees:
Conservation - Sonya Linskaill
Council - Tommy Thomson
Education -  Claire Gibbons
Practice - Tommy Thomson
PPC - Tommy Thomson
Sustainability - Mhairi Grant
Members:
To access the exclusive members content, click here:
Members:
To access the exclusive members content, click here: